Ilias Papailiakis
about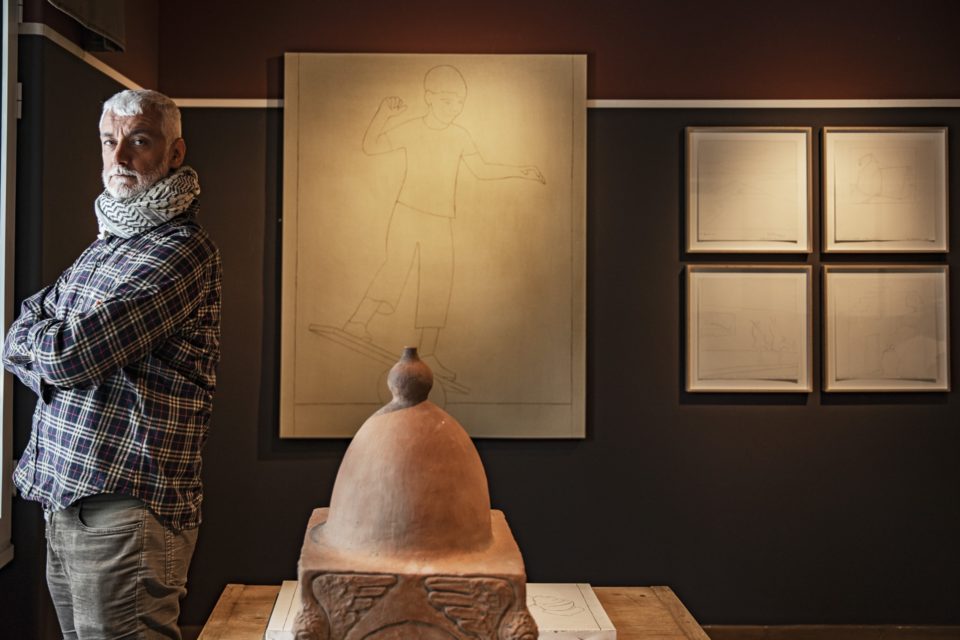 Ilias Papailiakis was born in Crete in 1970. He is one of the most active and acclaimed Greek contemporary painters. He lives and works in Athens. He studied painting at Athens School of Fine Arts, Athens, 1990-1996. In 1998 he was awarded the first prize of Yiannis and Zoe Spyropoulos Foundation. In 2001 he represented Greece at La Biennale di Venezia, 49th International Exhibition of Art. In 2001 the Macedonian Museum of Contemporary Art organized a retrospective exhibition with works from the period 1996-2001. In 2009 the Hellenic Foundation for Culture (Berlin branch) organized a retrospective exhibition with works that belonged to German collections from the period 2005-2009. In 2013 he was one of the six shortlisted artists for the "Deste" foundation prize and in 2015 the independent art center Signal (Malmo, Sweden) exhibited his work in collaboration with Pauline Oliveiros. In 2017 he participated in documenta 14 in Fridericianum, Kassel. In 2018 he participated in Athens Biennale 2018, ANTI. In 2020 the Municipal Art Gallery of Athens, organized a retrospective exhibition with works from the period 2017-2020. He has presented his work in more than 25 solo exhibitions in Greece and abroad. He was a visiting tutor at the Architectural Department of Patra's University from 2009 to 2019. His work can can be found at both private and public collections.
Ilias Papailiakis exclusive work series for Crux Galerie.
artworks
inquire
1/4
videos
The Era of Images meets Ilias Papailiakis, one of the most active and acclaimed Greek artists, who constantly converses with the history of Greek painting.
On the occasion of his exhibition "Theoretical objects. Works 2017-2020 "at the Municipal Gallery of Athens, Katerina Zacharopoulou presents a flashback of his work.
Through his work series, he highlights the interest in painting as a need to connect with forms and themes of history, popular culture and masters of the early 20th century who defined and influenced the Greek painting tradition.
Works of the last three years, paintings, drawings and sculptures define the "theoretical object" as an object of study and research.
The human body, violence and history, art and archaeology, landscape and nature, the genealogy of desire, the history of civilization, are focal points around which a very interesting discussion takes place.
lias Papailiakis focuses on the image and its relationship with the physical object. The process on which his work is based interrogates figurative painting through an array of fragmented or partial forms that seem to belong to larger wholes in small or medium sized paintings. His iconography is sparse as the images he creates are abstract and formed mostly by color. For Papailiakis, color is a language through which to express one's ideas. As the artist himself remarks: "I use white, black, yellow, red, and blue, to give shape to the need for yet another new proposal; to paint the hope for yet another new language".