Ilias Papailiakis
THE ARCHAIC PARTS
29 March – 11 May 2019
Curated by Stavros Papagiannis
about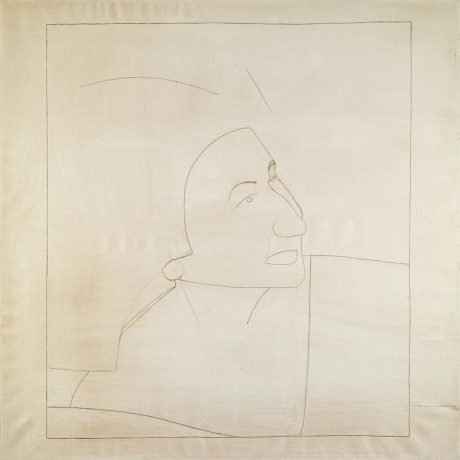 A minimum amount of paint evenly spread on the canvas.
Drawing with one line without making corrections.
This is all I need in order to paint.
This is the simplest and most essential expression of myself.
press release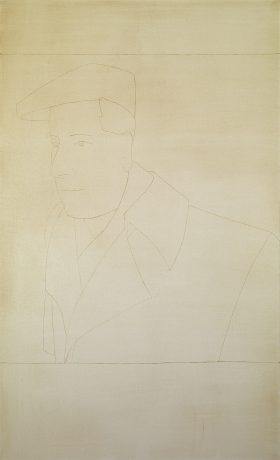 Ilias Papailiakis' solo show The Archaic Parts includes works from a series of oil paintings, as well as pencil drawings on paper. In this latest work, his visual language is defined by the simplicity of his material usage and the sensitive rendering of his subject matter. The series is comprised of portraits, moments of everyday life, and still lifes.
The artist manages to familiarize himself with all of his topics equally, regardless of the actual intimacy he shares with them. He creates an internalized connection with each image, in order to discuss the fundamental issues of form.
The dialogue initially occurs with the two first paintings of the series, the archaic mother and father. The archaic mother. The portrait of Mrs. Pagoulatou
This first work becomes the womb for the artist's intense introspection and his continuous effort to further define and explore his medium. With its wavy canvas, it stands as a landmark for the artist, revealing the crucial role of matter and giving birth to the direct form of expression he sought.
The archaic father. Study on the real size of Mr. Tsingos
The artist's choice in using the actual height of his model (164 cm) for the measurement of the canvas, as a symbolic gesture, signifies his steady decision to use "anthropos" as an axis. In this anthropocentric universe, Papailiakis monumentalizes images both larger than life and mundane. The artist's shoes on the floor, a horse race, a portrait of Markos Vamvakaris, a circus performance with an elephant, a child trying to balance.
Papailiakis spreads his matter (as he prefers to call his colored oil paints) on the canvas as evenly as possible. He uses minimal paint which allows for the canvas' textures to be visible and thus part of the work, noticeable with a closer look. After this treatment he begins to render the subject matter by drawing selected lines with a thin paint brush. He doesn't use outlines or guides; instead, he paints decisively and directly on his surfaces, without corrections. A confident, automated approach towards drawing, undermining the traditional layering in painting.
Stefanos Yiannoulis
artworks
inquire
1/35
press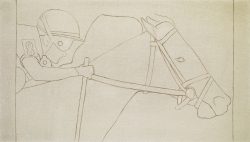 19.04.2019
ETHNOS
Ilias Papailiakis' Archaic Parts
view here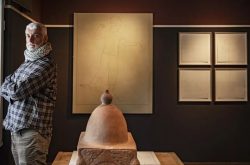 06.05.2019
POPAGANDA
Ilias Papailiakis: "My work becomes meaningful through the viewer's gaze"
view here