Alice Rosati
about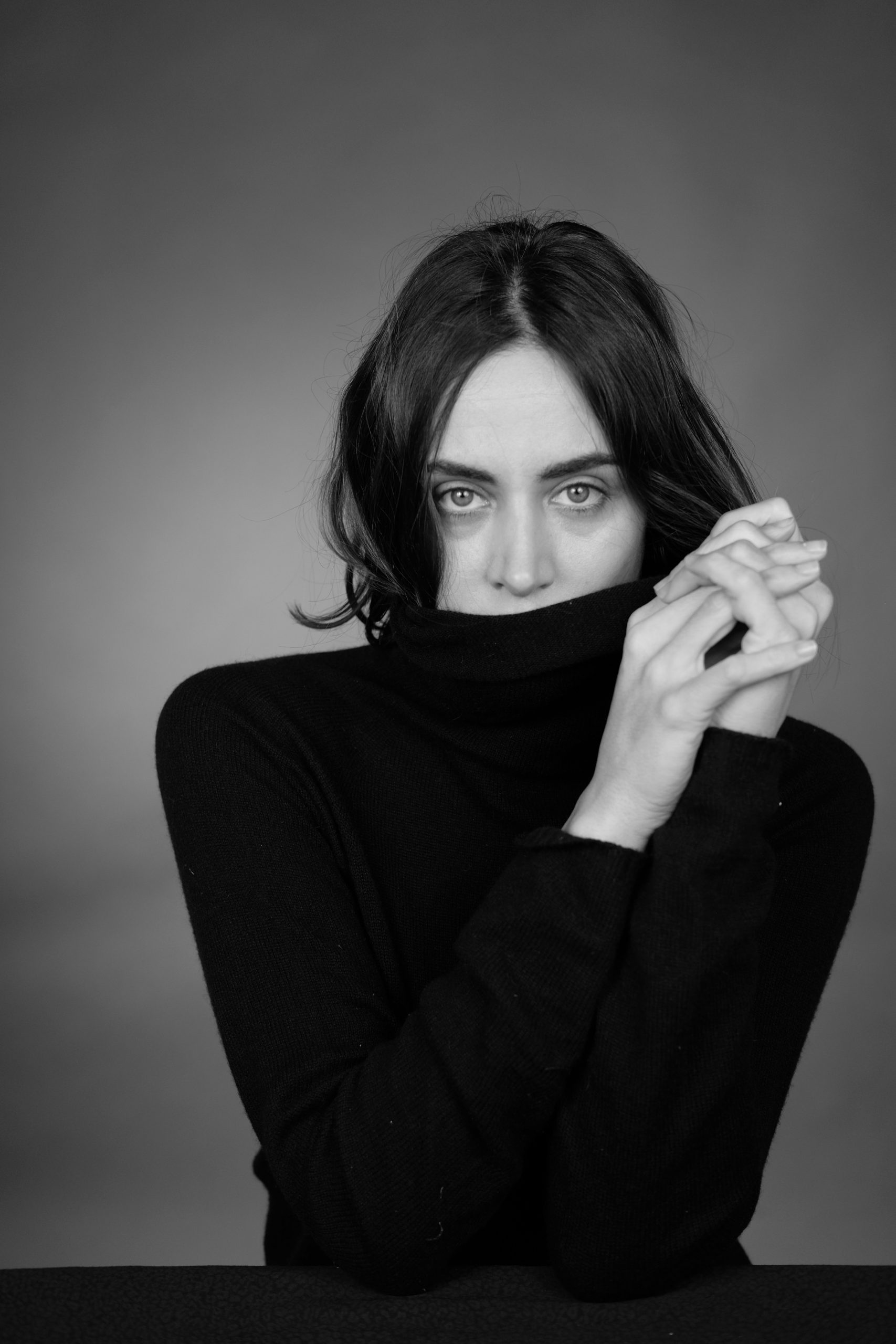 Alice Rosati was born in Milan in 1985. She lives and works in Paris. Since the early 2000, her works have questioned existing values and hierarchies, pairing intimacy and playfulness with social critique.
Art as exorcism, consciousness investigation and visual paradoxes are expressed with ambivalent images, through a variety of mixed media: from early paintings and sculptures to photographs, video installations and performances.
Her most recent solo show 'I am a mermaid', which took place in 2020 at Gallerie Charraudeau in Paris documents a five year long performance that took place across three continents, where she gives herself to the world through her camera, alone, naked, inside of a golden lamée mermaid suit.
Rosati's polyhedric artistic research proposes to us a dialectical vision of the absurdity of reality, pushing the observer to ask himself which is the real world that surrounds him. She reveals and dismantles stereotypes, debunking with irony contemporary art, fixed and recognized in her conceptual anarchy. Rosati is a storyteller, building up constructed universes where her characters play different roles, creating visions where the known and the unknown have no more boundaries and exploring the tension between the casual and the posed, the accidental and the fated.
With metaphysically dreamlike images Alice let us enter in her magic and ambiguous world giving us the sensation to travel in a hidden reality exploring the personal diary of the artist and his never ending tale.
artworks
inquire
1/26
extras
I AM A MERMAID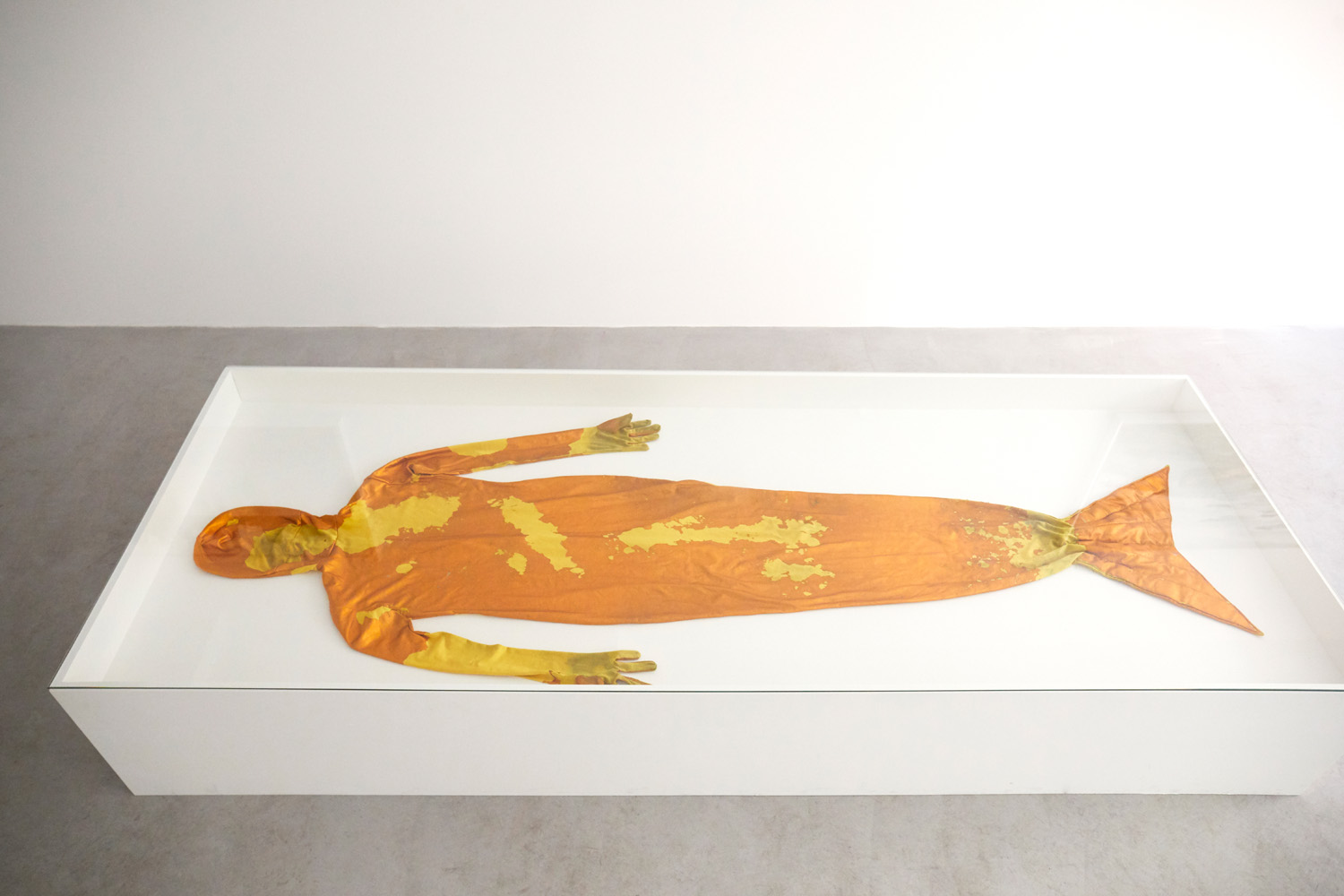 I AM A MERMAID is an archetypal image that represents a woman who is comfortable in the deep waters of life, in the roil of emotions and sexuality. She shows us how to embrace our instinctual sexuality and sensuality, so that we may own the essence of our feminine nature, the wisdom of our body and the elation of our spirit. She symbolises our bond with our deepest, most instinctual feelings, the wild, primal, untamed nature that lies just beneath the surface of outward personalities. She has the power to fulfil her own mysterious sexual impulses without shedding her more human and conscious self. Whatever happened to girls who dreamt of becoming mermaids?
She chose to give herself as a mermaid. Alice Rosati travels the world and abandons her camera to whomever crosses her path, while she poses alone and naked under a mermaid suit. Faceless. Masked. Sheathed in gold lamé, like a veil worn out by the passage of time, rough as an old rag that serves as a vessel and a reminder for the permanence of memories. That is how the costume came to assume its significance: as a physical representation of the border between the world and the self. It is that golden part of us that chafes away every day a little bit more. Scars of the life we live. By her desire to hide, she denies access to her identity, placing her entire self into the hands and in the guise of a half-woman half-fish creature. How do we ever meet others? Face-to-face, is Emmanuel levinas' answer. For the philosopher, we may only experience others face-to-face. But here, there is nothing to hold onto, nothing to connect with the other's image and impression. The performance causes presence and absence to collide. The mermaid transcends her identity as a fantastic sea creature, because what she seeks above all else is to disappear. To dissolve into death, since the artist has already decided that the mermaid would take away her own life and write her own end as it were. Over time, Alice Rosati has given her mermaid free rein, complete autonomy. But has she decided to kill her doppelgänger? The mermaid will be killing herself in a doctor's office, to be absorbed into the long heritage of the Homeric myth. Will she really have existed? Such is the confusion that this five-year experience has fueled by design. The pictures serve as evidence to us. Sprawled on a shore, standing at a pedestrian crossing, lying on a hotel bed, wherever she went, the mermaid searched for of a place where she belonged — never to find it. With time, she became a paragon of the struggle of being in the world and a symbol of inadequacy. In death, the mermaid remains immortalized in the memories of her that the pictures hold. And what endures through them is the feeling that being in the world means smashing against the roughness of life, letting the gold layer peel away and leaving it behind us as proof that we were once there.
Léa Chauvel-Lévy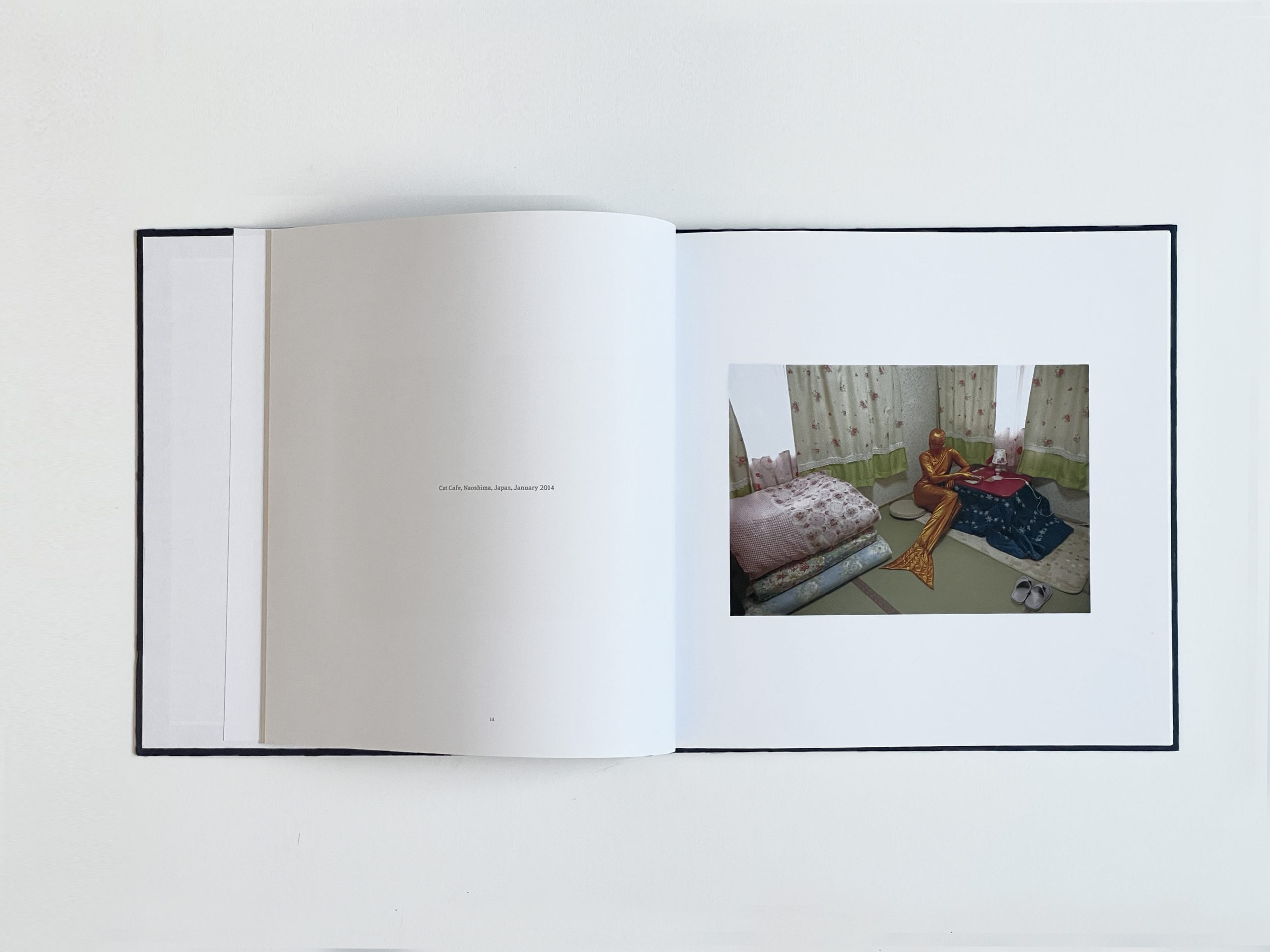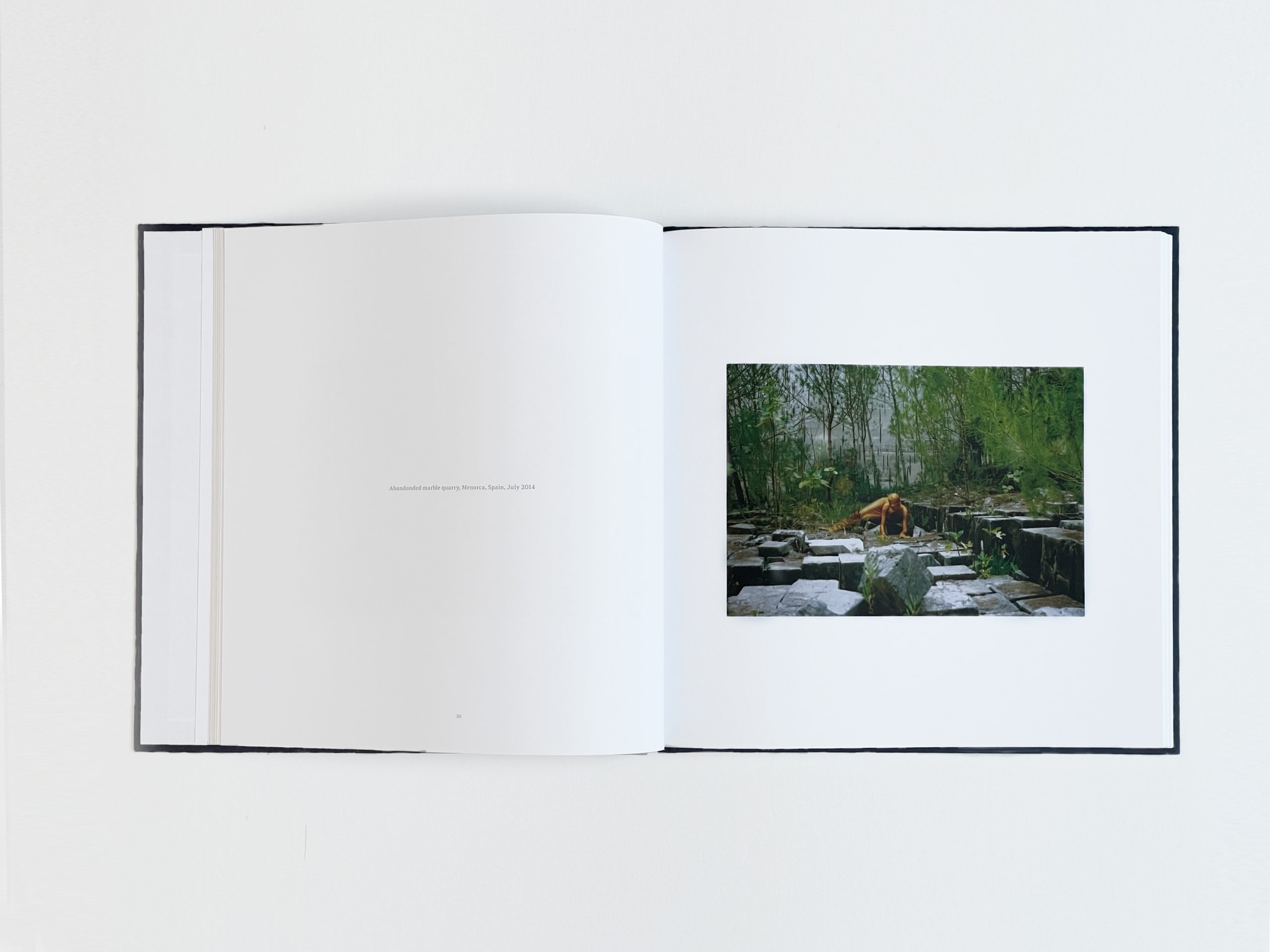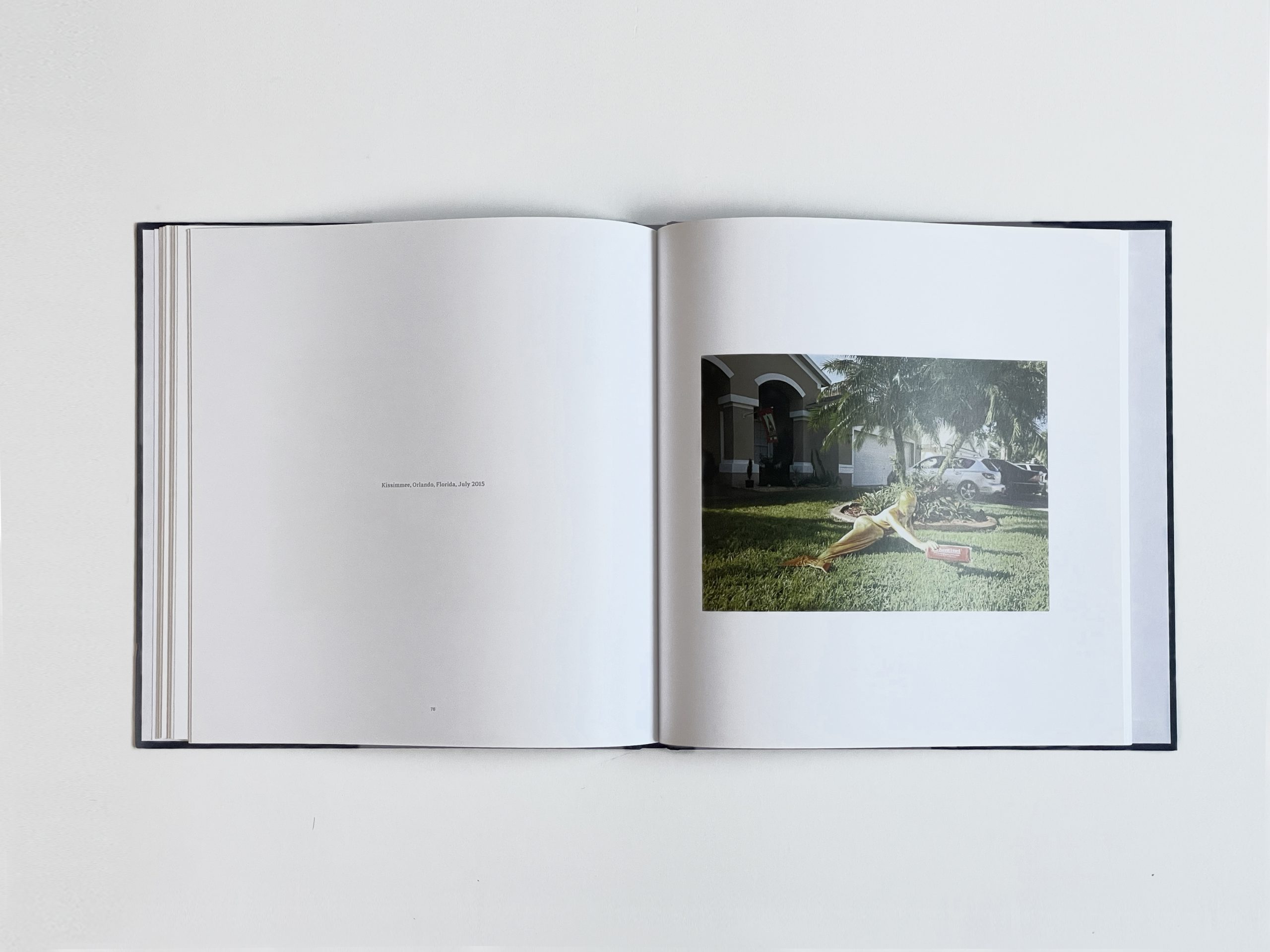 "Reality is a negotiated version of reality, where both the researcher and the participants bring their experiences to the negotiated reality" P.
Performance art is generally experienced live, but what documents it and ensures its enduring life is, above all, photography.
Alice Rosati's performance is staged expressly for the camera, in some cases in presence of an audience in others not, with the result of images that are not just recordings of that specific event but also become autonomous work of art.
At the center of these pictures there is the performer, Alice Rosati, without a face, behind a mask, covered by a golden lamée mermaid suit. Performance in this context is seen as both a form of investigation and a form of representation where the photographs bring the viewer very close to the action.
The mermaid as a performative self-portrait, in which she emulates / reproduce poses, settings of our everyday life in different locations around the world.
Why a mermaid suit? Her transfiguration proposes us a dialectical vision of the absurdity of reality, debunking with irony contemporary art.
The mermaid plays different roles and refers to different aspects of human condition, from questioning the reality of existence, to the difficulty to adapt and find a place in modern society, where the landscapes become the playground / theatre of Alice's performance. It's the medium through which the artist is experimenting with her own identity and her surroundings. When an individual "plays a part" or "perform" he implicitly requests his observer to take seriously the impression that is fostered before them. By asking anyone to photograph / "freeze" the performance, Alice makes the viewer participant of her truth, with the final result of images that push the observer to ask himself which is the real world that surrounds him.
Sarah de Scisciolo