Katerina Zacharopoulou
"WHEN THE RAVEN TURNS WHITE…"
23 March – 14 May 2022
about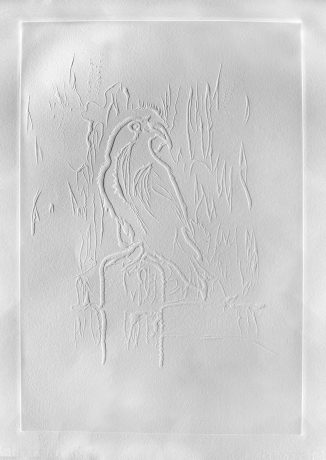 Silence and the unseen are the main subjects in this body of works. People and their voices, their transformations into birds driven by the necessity of a salvation, the muteness that intercedes in between, a cultural, gendered or personal trauma, the speechlessness of the unspeakable, are all to be found engraved on surfaces, sometimes with deep cuts and sometimes ex-pressed on white papers as traces that foreshadow healing. The subject matter emanates from incidents where the cry is repressed until the time of metamorphosis, and from forms that struggle to speak in the hope of an indirect gaze. The exhibition consists of twelve carved linoleum matrices in different colors positioned on wooden lecterns and a large series of dry embossed white Fabriano papers. Although relief embossing is a traditional technique of printmaking, in this case the typography elements are replaced by lines and forms that are texts themselves and they appear as transfigured phrases or even titles of old songs from Smyrna into birds, children and flowers. The choice of printmaking as a medium to tell these stories suited well to the need of finding out how experiences, losses, pain and language itself can be inscribed after they have been dissociated from the "maternal moment" and have permitted time to do its work. And while neither birds nor songs change character, what is left to discover is the timeless component of oblivion and silence. What kind of voice expresses better, in secrecy and suggestively this Never?
The proverb "when the raven turns white…" does not stop here, it goes on as "and the snow turns black ". It is a verse from a song from Smyrna which I borrowed, in order to embrace the unthinkable, the invisible, the haunted expectations that most of the times have to deal with love.
The three paintings that complement the exhibition are offsprings of "The Collared Dove", a work that I presented in various versions in the past, most recently in the summer of 2017 as part of the exhibition "The garden sees" curated by Anna Kafetsi. It consisted of video projections on the trunk of a tree, depicting scenes from fairy tales along with the call of the bird that never stops to ask for justice while it remembers that once upon a time it used to be a human being.
Another voice of "Never" among others.
artworks
inquire
1/13
text by Zyranna Zateli
I happened once to notice a piece of an acacia trunk that was cut flat, where on the surface and inside, a hard-working woodworm had made a journey that was beyond words: a number of elaborate carvings was its craft, lacy patterns and drawings results of a method that one would describe as enviable. "I am eating you, this is my nature" as if the woodworm was whispering to the wood, "but at the same time I'm decorating you, I am embroidering on you- nothing is without skill in this secret and lonely fest of mine".
I had a similar feeling, years later, when I looked closer at the linocuts matrices of the prints by Katerina Zacharopoulou "When the Raven turns white…". Some woodworm, I thought, dictates these girls of any age to transform into trees, in order then to transform again into something else, or to turn once and for all into birds and fly.
(Oh that I had wings like a dove, for then would I fly away and be at rest? David, Psalm 55:6)
The almost imperceptible figures that came from this kind of a manual and laborious adventure, white inscribed on white, do not differ much from the trace left behind by a bird -its flying- on the cloud.
Zyranna Zateli
Novelist
March 2022