Daniel Sturgis
THE SAME AIR
19 October – 02 December 2023
press release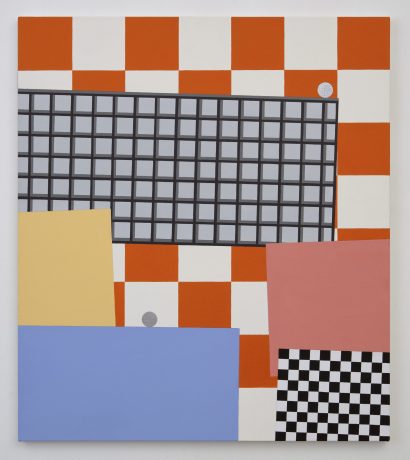 Crux Galerie is pleased to present the solo exhibition of Daniel Sturgis, The Same Air.
Opening: 19 October 2023, 18:00-21:00
Duration: 19 October-25 November 2023
"His is neither a defence nor an embrace, but an argument that painting is a detailed
and flexible language able to propose ideas and enact provisional answers."
Alison Green, 'The Indiscipline of Painting', Tate St Ives, 2011
For this exhibition Sturgis will exhibit paintings from two new series: The Same Air
(2023) and Exist in the World (2022) as well as a series of smaller canvases from
2019. Drawn in graphite, and painted by hand in acrylic paint, these meticulously
crafted works create an open democratic space, where references from the analogue
and digital worlds seem to coexist. While referencing modernist abstract painting and
combining strict geometries with a lively coloured palette, his paintings find themselves
between the conscious and intuitive, the strict and uplifting, and the orderly and unruly.
We are happy to welcome Daniel Sturgis in Athens for the opening week!
Daniel Sturgis (b. 1966, London), studied at London College of Printing 1985-86,
Camberwell College of Arts 1986-89 and Goldsmiths' College 1992-94. He is professor
of painting at The University of the Arts London, and chair of the Faculty of Fine Art at
the British School at Rome. Sturgis is a regular contributor to Texte zur Kunst, and his
writing has also appeared in publications including Tate Papers, Art Monthly and
Burlington Contemporary.
Sturgis has exhibited in solo exhibitions at major institutions such as: Camden Arts
Centre (1997); Wordsworth Trust, Grasmere (2005); The Locker Plant, Chinati
Foundation (2007); as well as in galleries in: Amsterdam, Edinburgh, London, Milan,
New York and Stuttgart.
artworks
inquire
1/5