Denys Shantar
THE FUTURE DOESN'T EXIST
BUT I LOVE YOU SO MUCH
21 April – 17 June 2023
A project by Katerina Nikou
press release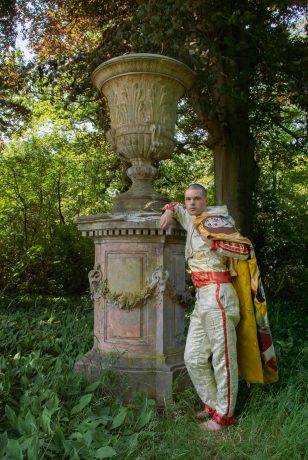 We have to chase away whatever has occupied our mind up to now, in order to contemplate these new territories (and solitudes) that we will face.
Etel Adnan, Shifting the Silence
Denys Shantar (*1997 Kherson, Ukraine) is an artist, curator and activist. He has a background in drama and graduated with a bachelor's in Fine Art from the Zurich University of the Arts (CH). In 2021 he finished his master's degree in Costume Design at the Royal Academy of Fine Arts Antwerp (BE). He exhibited in several Belgian and other European institutions, including Z33 House for Contemporary Art in Hasselt (BE), S.M.A.K Gent (BE), NPAK Yerevan (AM), Morpho Antwerp (BE) and Grand Palais Bern (CH).
He has received the Emerging Artist Award during the 25th Gabrovo Biennial at the Museum of Humor and Satire Gabrovo (BG). In 2022 he collaborated with the Museum of Modern Religious Art (MMRK) for his first solo show at the 3rd Ypres Quadrennial (BE) and in 2023 he curated the group exhibition "Crossing Ways" there. As of September 2023, he will be a researcher at the Royal Academy of Fine Arts in Antwerp. He lives and works in Antwerp and Zurich.
As a starting point for his artistic practice, he often uses his own memories and those from other people and deploys different materials and techniques, in order to create narratives, which lie between reality and fiction. In his exploration of childhood, religion, migration, and queerness, he links the personal to global events. While in search for an identity, he asks himself two simple questions: "Who am I?" and "Where do I come from?", adapting his research and body of work to the constantly changing world around him.
His first solo show in Greece "The future isn't real but I love you so much" brings together two different bodies of work. The first includes works with found fabric, embroidery and costume design that refer to his cultural heritage, personal experiences and social urgencies. On the one hand he constructs flags that manifest the contemporary needs of the youth, embedded on traditional domestic objects, highlighting the juxtaposition of his Ukrainian heritage and his contemporary experience, while on the other he designs utility clothing and uniforms with ecclesiastical or folklore fabrics.
The second part bridges his practice with his current hosting place, Athens and Greece. He takes inspiration from queer Greek mythology, following heroes like Hyacinthus, Cyparissus and Crocus. All of them lovers of Gods, died tragically and were turned in to flowers. Within this research, Denys comments on the variety of personal experiences, the dilemma between social rules and the free flow of life.
The show was planned and conceptualized by the curator Katerina Nikou, a permanent associate of Crux Galerie and an established arts professional, who worked on many significant international projects and had ongoing collaborations with many international artists and fellow curators. In a tragic twist of fate, the theme of the never-ending circle of life in connection to love, nature and death was meant to be a symbolic one for this show, as it will now be Katerina's last project. She passed away suddenly a few weeks before the planned opening. This exhibition is an homage to her, to her work, and to the never-ending love that we shared.
This project was produced with the financial assistance of the European Union. The views expressed herein can in no way be taken to reflect the official opinion of the European Union.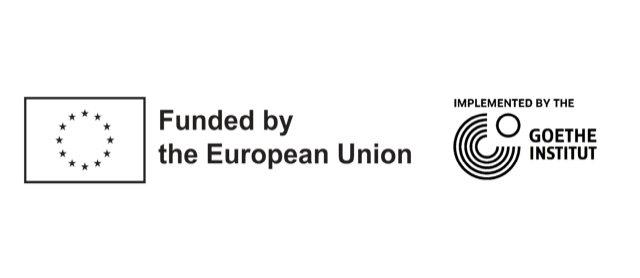 Special thanks to the Swiss Embassy in Athens for their endorsement of our project in their communication channels.
artworks
inquire
1/5