ath1281
IT'S HARD…
23 May – 29 June 2019
press release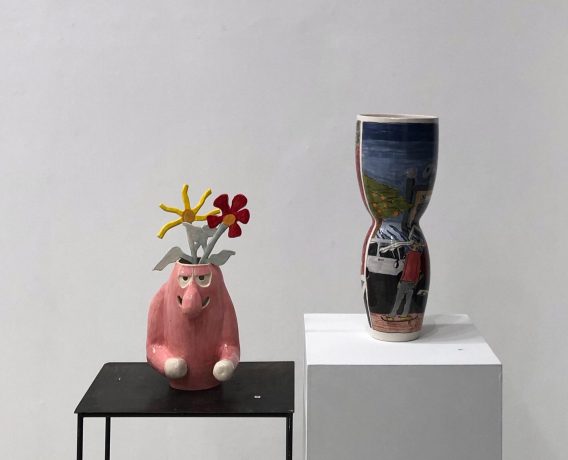 The art gallery "ekfrasi- Gianna Grammatopoulou" in collaboration with Crux Galerie invites you on Thursday, May 23, 2019, at 19:30, at the solo exhibition of Ath1281 titled "It's hard …".
In his new exhibition, ath1281 presents a colorful installation of handmade ceramics.
Exploring the transformative properties of clay, its characteristic figures move into three-dimensional reality and create an entire universe filled with a diverse army of strikingly fascinating characters.
The artist continues to explore what began as an exploration with clay three years ago. Giving surreal and exaggerated features to his sculptures, he pushes them into larger and more complex dioramas. Detailed paintings, over sized heads, outstretched arms, noses of various sizes, severed brains, blurred eyes, colorful hair, totemic sculptures, a face mask, mice and fires, form the artist's bizarre universe.
ath1281's universe which is based on the same character he has been using the last couple of years, revolves around basic human emotions, relationships, insecurities and social conventions. His heroes seem trapped in their own existence and their "nudity" makes them vulnerable in some way, tragic and funny at the same time.
Comic influences, urban culture, humor and lack of seriousness compose the visual language of the artist. His work is characterized by a relaxed and endoscopic mood. With simplistic honesty, his characters, lovable, naive, irrational, even annoying, do their best to reveal their true feelings, avoiding superficial political correctness.
artworks
inquire
1/16