Anestis Ioannou
AFTER SUNSET
22 June – 30 October 2021
Curated by Katerina Nikou
artist's note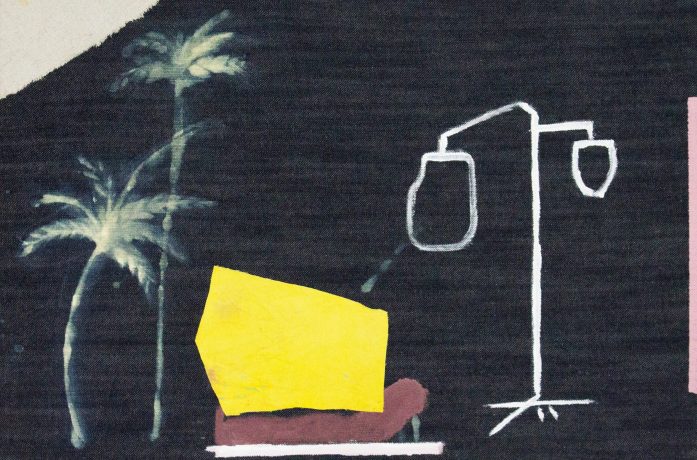 Our stories, the strangers around us and the places we build to live within are interrelated. This thought triggered a line of exploration in which different registers of narration are exposed, from the relation between the inner human state and the environment that surrounds us, to the osmosis of an individual's identity with that of a place.
I am interested in the way our urban localities are composed of the information that everyone inserts, a process that functions as a carrier of cultural, social and behavioral transplants.
In this body of work, I draw upon autobiographical, historical and sociological sources to explore fragments of urban narratives, and present traces of places on denim and concrete. I consider denim as a personal memory-carrying material, that among others it is often connected with the youth street culture and a general movement in a city.
In this case, I process the denim by bleaching out plants, while mixing them with collages of photographed found objects and other textiles.
At the same time, glowing forms and plants emerge from concrete-like structures blended with iron rods. A reference to unfinished constructions, as empty promises filled with nightlife's lights and stories.
In the presented works, the urban flora occupies a central role of the narrative. I perceive plants and flowerpots, in a city flooded by concrete, whether in common spaces or private balconies, as containers of information. Currently growing transplants that affect, change and contribute to the totality of a space. Passing through local and personal myths, I discovered that you can find a big piece of Athenian history in the city's plants, rooting and becoming part of urban life.
curator's note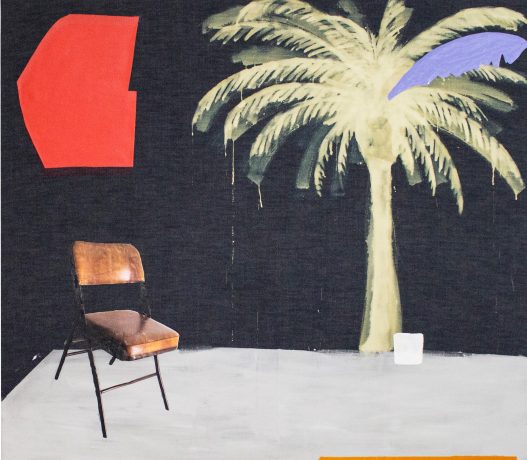 In his first solo show in Athens, titled After Sunset, Anestis Ioannou invites us to enter his personal world where he is concerned with the relationship of the individuals to the architectural environment and to the urban nature.
In his large dimension paintings, he replaces the traditional canvas with the jean textile, the canvas here is processed in a different way. Jean is a material originated from denim, invented by Jacob David and Levi Strauss in 1873. It has marked the culture of the last 150 years. Also, it is connected to the labour class, as a symbol of disobedience, which later became the basic paradigm of fast fashion (clothes in low prices produced fast from the mass markets).
The artist approaches jean as a fabric of everyday life, addressed to all social strata. Wearing it, people feel familiar and it connects individuals around the world (global cultural transplant). Its social address is evident from the range of its value and the market demands. The question of matter and form, as well as their coexistence in relation to philosophical pursuits, regarding material and its research, are redefined and acquire a new dimension here.
Anestis Ioannou watches from the window of a room, the city, the urban landscape, the architecture, the nature, our distance from the natural environment but also our effort to include it in our lives, fragments, such as a flowerpot and a tree in an open-air space, the vain gesture of the individual which reminds us of what we have lost.
Starting from this thought, his concrete-like sculptures with neon, wave at us in an ironic mood. When we cannot include the natural element, we replace it with the artificial: a neon plant that grows in cement instead of soil.
We follow the process of technology expropriation rooted in everyday life, related to advertising, branding, nightlife, bars in the urban field, and it turns to be a personal story.
A narrative like a fragment in urban chaos.
All these references are intricately embedded in an apartment of a 1951 building, an excellent example of Greek modern architecture and modernism, which during this era local immigrants left rural life and moved to the city.
Katerina Nikou (independent curator, Greece, Belgium)
artworks
inquire
1/27