Anestis Ioannou
AFTER SUNSET
22 June – 30 October 2021
Curated by Katerina Nikou
about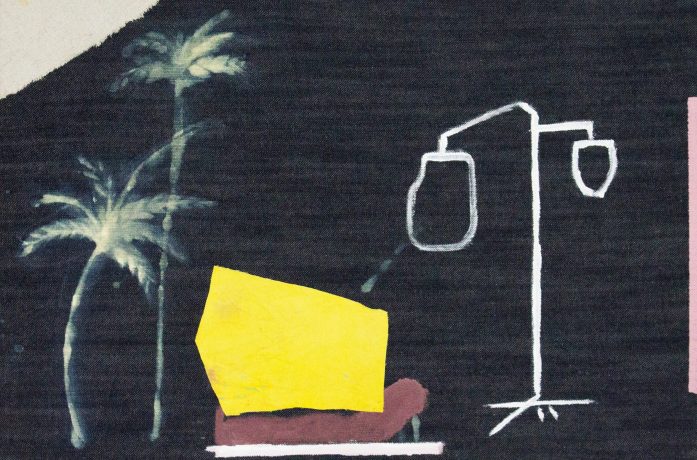 Our stories, the strangers around us and the places we build to live within are interrelated. This thought triggered a line of exploration in which different registers of narration are exposed, from the relation between the inner human state and the environment that surrounds us, to the osmosis of an individual's identity with that of a place.
I am interested in the way our urban localities are composed of the information that everyone inserts, a process that functions as a carrier of cultural, social and behavioral transplants.
In this body of work, I draw upon autobiographical, historical and sociological sources to explore fragments of urban narratives, and present traces of places on denim and concrete. I consider denim as a personal memory-carrying material, that among others it is often connected with the youth street culture and a general movement in a city.
In this case, I process the denim by bleaching out plants, while mixing them with collages of photographed found objects and other textiles.
At the same time, glowing forms and plants emerge from concrete-like structures blended with iron rods. A reference to unfinished constructions, as empty promises filled with nightlife's lights and stories.
In the presented works, the urban flora occupies a central role of the narrative. I perceive plants and flowerpots, in a city flooded by concrete, whether in common spaces or private balconies, as containers of information. Currently growing transplants that affect, change and contribute to the totality of a space. Passing through local and personal myths, I discovered that you can find a big piece of Athenian history in the city's plants, rooting and becoming part of urban life.
artworks
inquire
1/27